About Panchteerth
Prime Minister Narendra Modi coined the term "Panchteerth" in remembrance of Dr. Amedbkar birthplace in Mhow ''Janam Bhoomi, the place in London where he stayed while studying in UK, 'Deeksha Bhoomi' in Nagpur, where he embraced Buddhism, 'Mahaparinirvan Sthal' in Delhi, and 'Chaitya Bhoomi' in Mumbai. The Government dedicated Dr. Ambedkar International Centre, 15, Janpath in Delhi on 07 December 2017.
Panchteerath include :
Janam Bhoomi – Birthplace
Sikhsha Bhoomi - Place of Education
Deeksha Bhoomi - Place of adoption to Buddhism
Mahaparinivaran Bhoomi - Place of Demise
Chaitya Bhoomi - Cremation place
Janam Bhoomi - Birthplace In Mhow, M.P
Bhim Janma Bhoomi is a memorial dedicated to Dr. Babasaheb Ambedkar, located at Mhow (now Dr. Ambedkar Nagar) in Madhya Pradesh, India. This was birthplace of Dr. Ambedkar, who was born on 14 April 1891 in Mhow. Here the local government have built a grand memorial. This memorial was inaugurated on Dr. Ambedkar's 100th birth anniversary – 14 April 1991 . On April 14, 2016, The Prime Minister paid tribute to Dr. Ambedkar at his birthplace, Mhow. The architect of the memorial is E.D. Nimgade.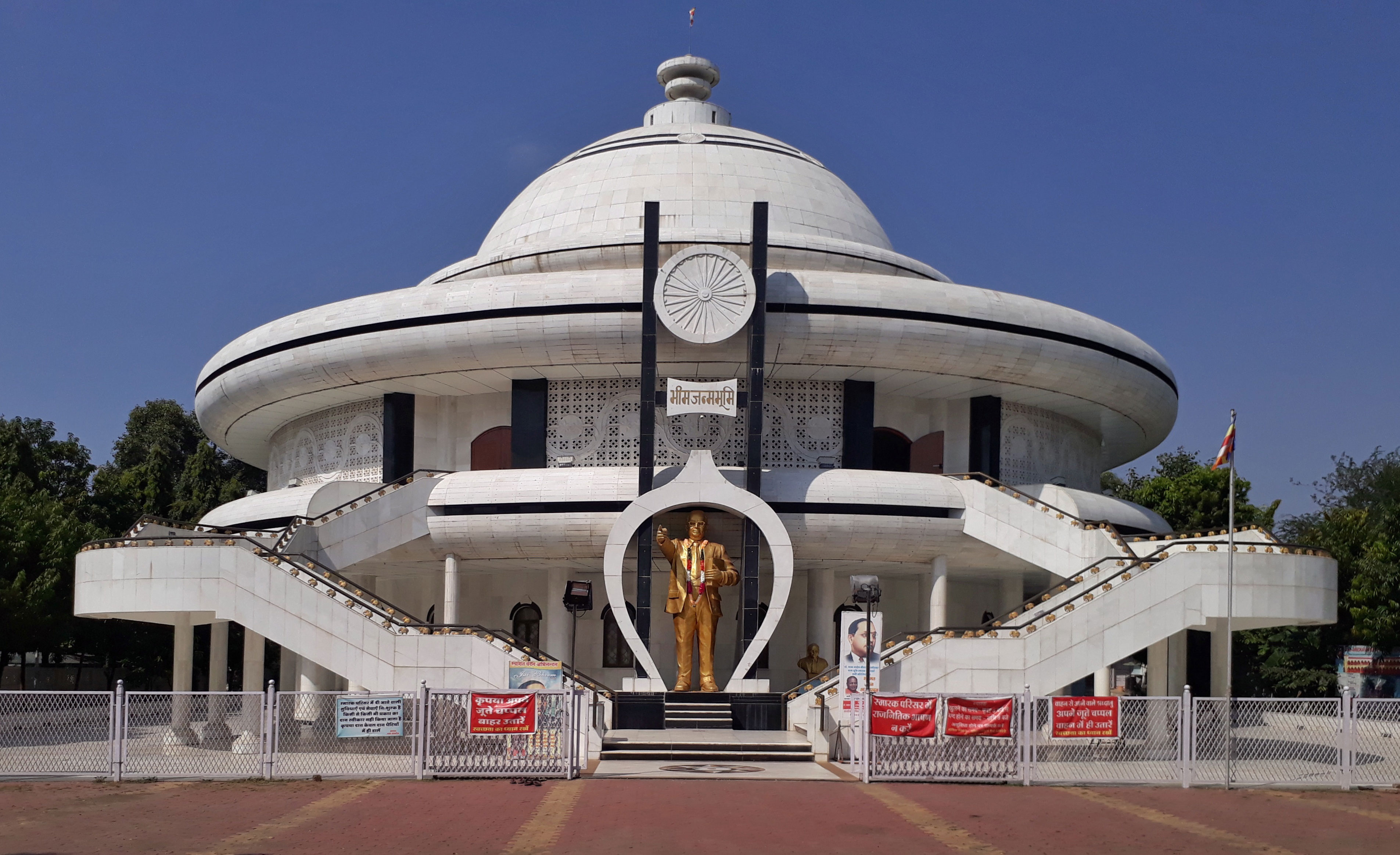 Sikhsha Bhoomi - Place of Education in London
Shiksha Bhoomi is where Dr. B.R. Ambedkar lived for several years while pursuing higher studies at the London School of Economics. Prime Minister Narendra Modi inaugurated the Ambedkar Memorial in London on November 14, 2015. Maharashtra Government led by Sh Devendra Fadnavis bought the three-storey house, where Dr. Ambedkar used to stay. Rs 800 crore rupees have been spent to convert the building into a museum. Prime Minister Narendra Modi stated that the people of this world would be drawn to this place to understand India's economic thinking.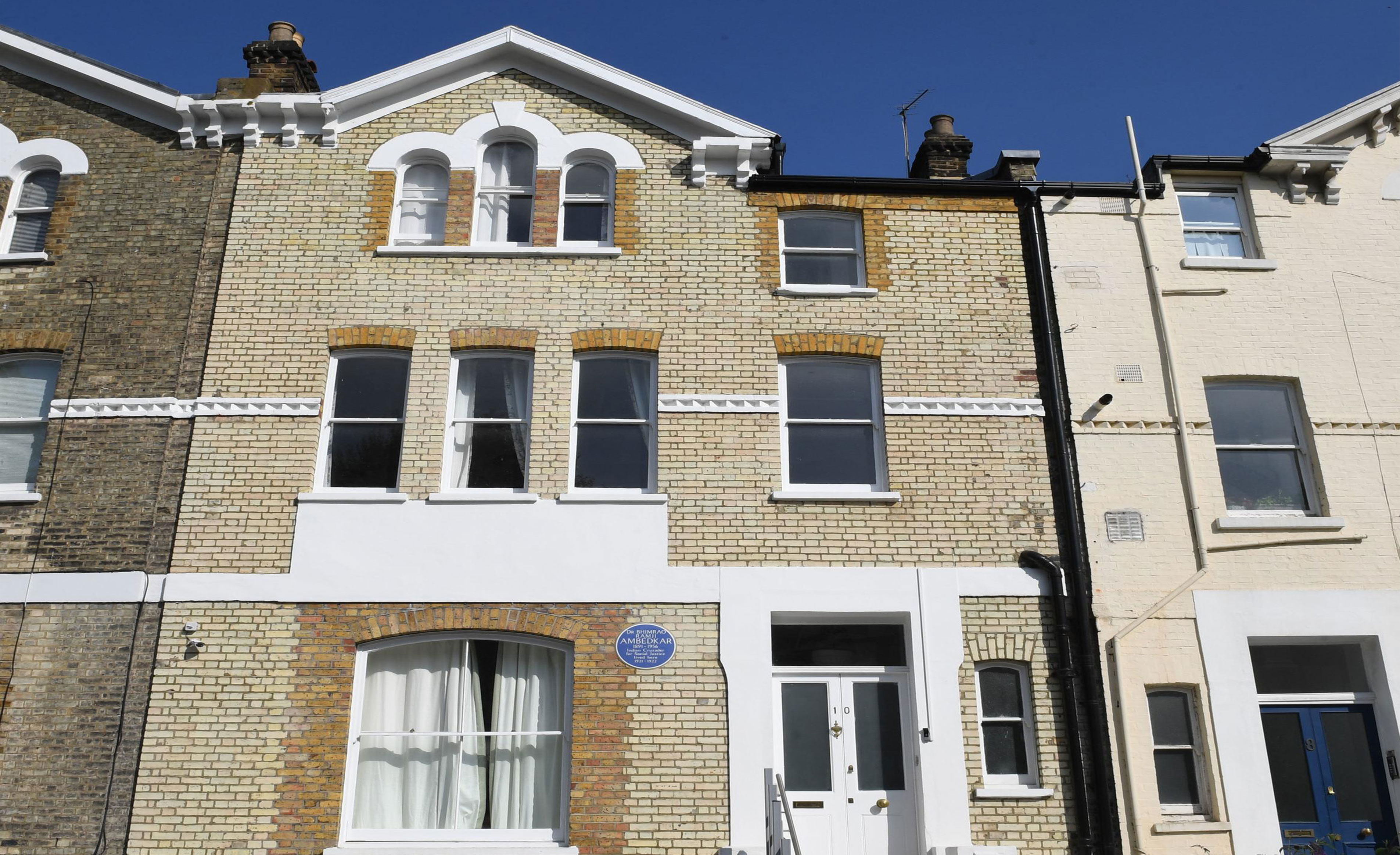 Deeksha Bhoomi - Place of adoption to Buddhism, Nagpur
On 14 October 1956, Dr. Babasaheb Ambedkar and his wife took the oath of Three Jewels and Five Precepts from the Burmese monk Mahasthavir Chandramani from Kushinagar. A prime attraction in the city of Nagpur, Deekshabhoomi is located at the spot where the architect of the Indian Constitution, Dr. Babasaheb Ambedkar adopted Buddhism on October 14, 1956. It was a historic and auspicious day as 600,000 people followed Dr. Ambedkar in the conversion to Buddhism. In this way, Nagpur became the birthplace of the Neo Buddhist movement. The literal meaning of 'Deekshabhoomi' is the ground where people got ordained as Buddhists. Deekshabhoomi is one of the major Buddhist pilgrim centres in India. Its construction started in 1968 over four acres with quarters for monks. The stupa was built in 1978 and has been revered as a major Buddhist site since then it is the largest stupa in Asia and the largest hollow stupa in the world. The construction of the stupa is remarkable as it consists of a hemispherical two-storied building with each storey capable of housing 5000 monks. Its architectural splendour and historical significance make Deekhshabhoomi a prominent pilgrim centre.
Mahaparinirvan Bhoomi - Place of Demise, New DELHI
Dr. Ambedkar's Mahaparinirvana took place in a Bungalow at 26, Alipur Road, Delhi. On 14th April 2016 on eve of Dr. Ambedkar birth anniversary Prime Minister Narendra Modi inaugurated the Dr. Ambedkar National Memorial at 26, Alipur Road. This is the place where Dr. Ambedkar attained Mahaparinirvana on 6th December 1956. The new Dr. Ambedkar National memorial has came up as a wonderful building and has been described as an architectural marvel that is in the shape of an open book (the Constitution) with vast landscaped gardens. The memorial showcase the life journey of Bharat Ratan Dr. Ambedkar. The memorial imortalalise Dr. B R Ambedkar and help new generation in remembering the social, political and economic contributions of Babasaheb PM Modi had said that it will be injustice to limit Babasaheb to a particular class. The overall ambience of the memorial is a perfect blend of modern science and traditional Buddhist architecture. Main entrance gate of the Memorial inspired from the historical Ajanta gate in the shape of Chaitya door. Open book shape design symbolizes the Constitution of India and empowerment through education and knowledge. The interior design and decoration depicts a glimpse of the life, vision and ideology of Dr. Ambedkar and displayed in the form of static / dynamic display, LED walls and Interactive tables. Ancient Buddhist architecture in the form of Stupa, Canopy, Toran Dwars, Meditation hall, Bodhi Tree adorns the place. Building, architecture and its surroundings are in sync with the life and thoughts of Dr. Ambedkar.
Chaitya Bhoomi - Cremation place, Mumbai
It is here that Dr. Babasaheb Ambedkar was cremated after his death on December 6, 2017. Earlier known as Dadar Chowpatty, the Chaitya Bhoomi is one of the most revered places for Ambedkar's followers, consists of a memorial of the leader. The two-storey construction erected over Dr. Ambedkar's cremation place looks like a stupa. Its architecture is inspired from Babasaheb's religious and philosophical quest . With Vedic shmashana (śmāśāna) as a prototype the stupa represents a sort of a burial construction that may contain relics. Dr. Ambedkar's ashes, the main relic in Chaityabhoomi, rest in a small, square ground-floor room. Sculptures and portraits of Dr. Ambedkar and the Buddha are also there, It is decorated with bright flower garlands. The second floor—a white marble cupola—houses a rest hall for bhikkhus; the cupola is surrounded by a square-shaped railing and topped by a chatra (a pillar carrying three umbrella-like disks). Similarly to Buddhist shrines, the stupa is far from being pompous, and its design is quite simple. Torana (torana) gateways are located to the North and South of the stupa; they are decorated with reliefs depicting people, animals, and flowers and are topped with the dharmachakra, an ancient image symbolizing Buddha's teaching. The memorial was inaugurated by Meerabai Yashwantrao Ambedkar, the daughter-in-law of Dr Ambedkar on December 5, 1971. On December 6 every year, lakhs of followers visit Chaitya Bhoomi to pay homage to Dr. Ambedkar. The task of developing the Dr. Babasaheb Ambedkar Memorial at Chaitanya Bhoomi in Mumbai is in progress. In 2015, Prime Minister Narendra Modi performed Bhoomi Pujan for the site.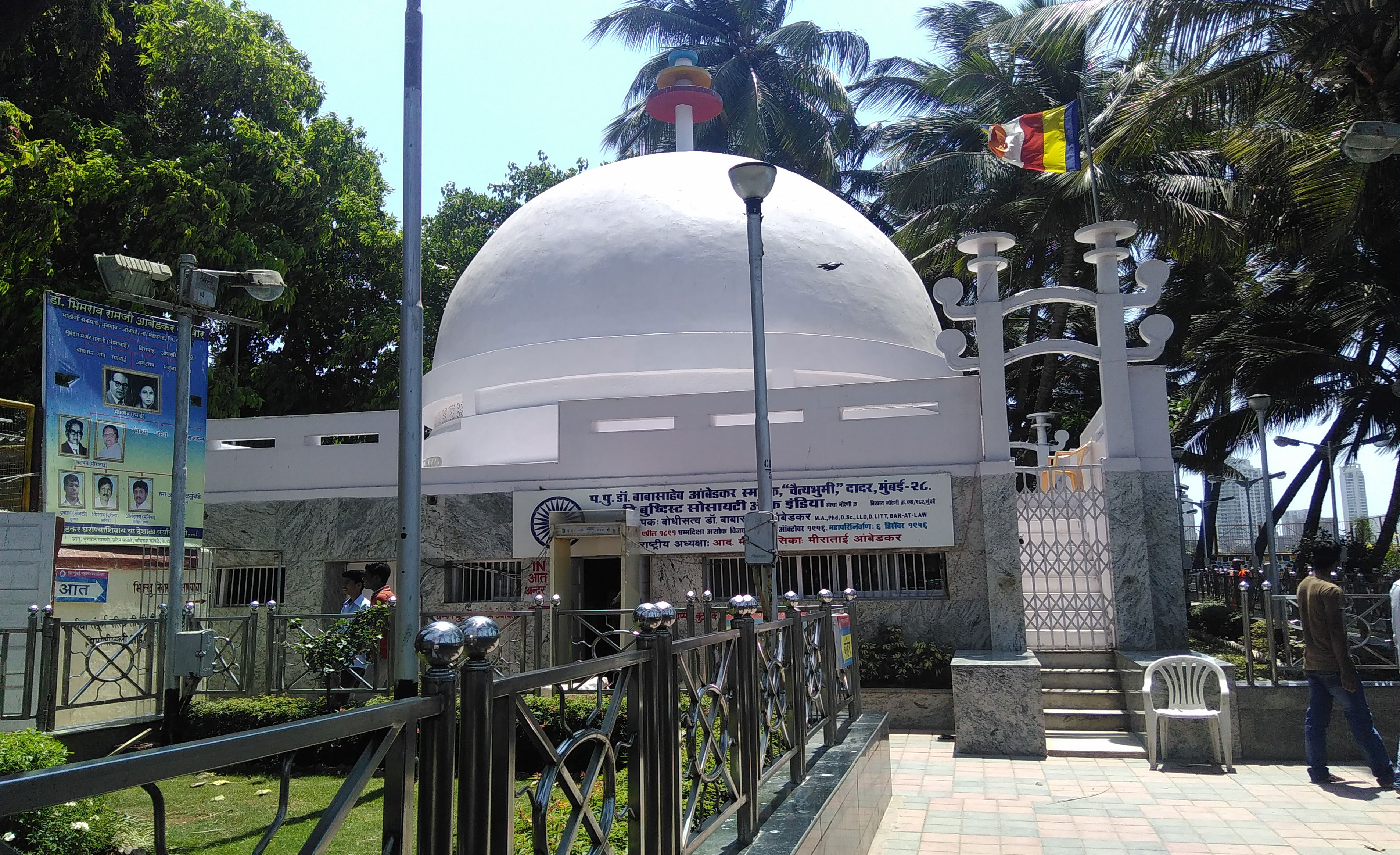 Dr. Ambedkar International Center, New Delhi
Dr. Ambedkar International Centre 15 Janpath, New Delhi was inaugurated by the Hon'ble Prime Minister of India Shri Narendra Modi on 7th December 2017. The Honourable Prime Minister has envisaged the centre as 'Centre of Excellence' for study, research, analysis and policy making in the field of Socio-Economic Transformation. The focus of the centre will be to reduce Socio-political and economic inequalities by conducting rigorous and authoritative research. The area of state-of-the-art centre is approximately 3.25 acre in the heart of Delhi and is housed in three storeyed building that includes the administrative block and other facilities. It has a 18 feet bronze statue of Dr. B.R. Ambedkar, a small Amphitheatre, two Chitiya Arches, two Red Stone Toran Gates, a Buddha Statue and the imposing Ashoka Stambh on the right facade.The centre has a huge circular area on ground floor under the dome.